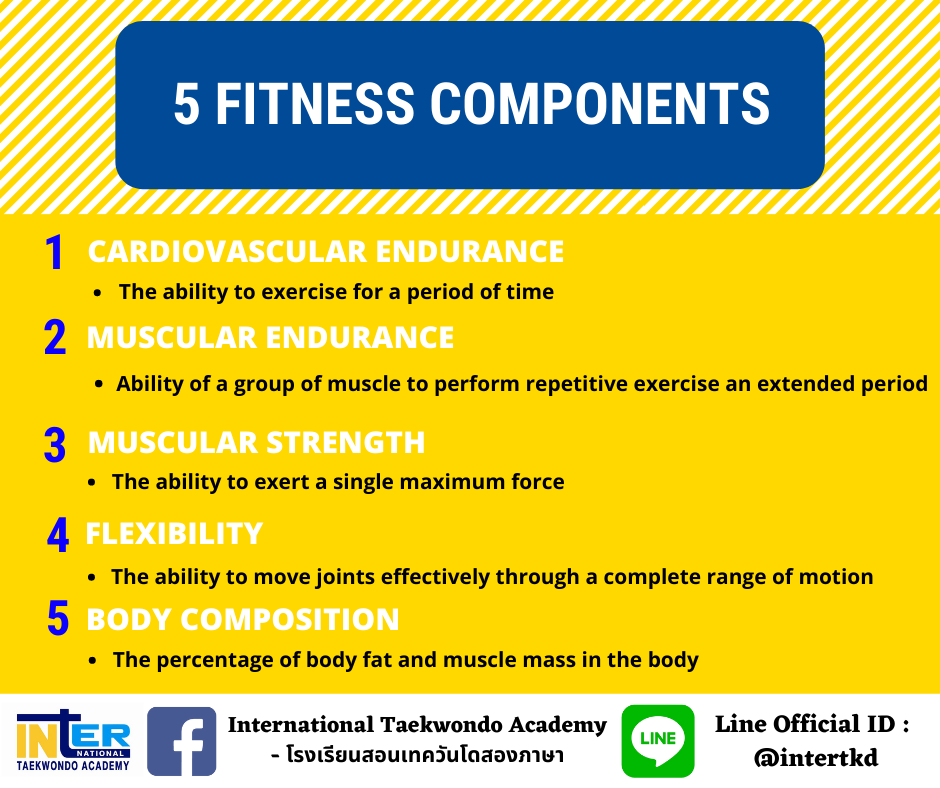 As we are struggling with the pandemic situation, maybe sharing some knowledge regarding to health and fitness might help to maintain and improve your fitness condition.
Fitness components are the basic guideline to execute well balanced workout routine that we should be aware off no matter which level of sporting background you are in. The 5 fitness components are:
Cardiovascular Endurance • The ability to exercise for a period of time
Muscular Endurance • The ability of a group of muscle to perform repetitive exercise an extended period
Muscular Strength • The ability to exert a single maximum force
Flexibility • The ability to move joints effectively through a complete range of motion
Body Composition • The percentage of body fat and muscle mass in the body.
So let's not wait later and start our fitness program now.
19 ปีที่รอคอย วงการเทควันโดไทย เหรียญทองแห่งประวัติศาสตร์

ขอแสดงความยินดีกับ น้องเทนนิส พาณิภัค วงศ์พัฒนกิจ คว้าเหรียญทอง ในการแข่งขันกีฬาโอลิมปิกเกมส์ 2020 กรุงโตเกียว ประเทศญี่ปุ่น

ขอเป็นกำลังใจให้กับ น้องจูเนียร์ ที่ได้ทำหน้าที่ได้อย่างเต็มที่ ทั้งน้องเทนนิส และ น้องจูเนียร์ คือ ฮีโร่ของพวกเราขอบคุณนักกีฬาทั้ง 2 คนที่ได้สร้างรอยยิ้มให้กับคนไทยทั้งประเทศ

Congratulations to Parnipak Wongpattanakit has won gold medal in the Tokyo 2020 Olympic Games. You did your best Ramnarong Sawekwiharee. We are proud both of you.